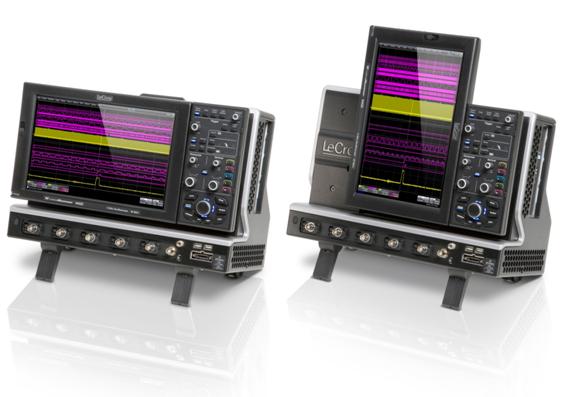 LeCroy Corporation introduces a new line of 12-bit resolution WaveRunner® oscilloscopes, the WaveRunner HRO™ 6 Zi. The WaveRunner HRO (High Resolution Oscilloscope) features an industry leading 12-bit Analog to Digital Convertor (ADC), deep memory of 256 Mpts/ch, and superior DC accuracy specifications. These features are in addition to the extensive analysis capabilities of the WaveRunner 6 Zi. Engineers no longer have to compromise the analysis functions of an oscilloscope to get the high resolution they need.
Designed for the medical, automotive, power, and electro-mechanical markets, the WaveRunner HRO has higher resolution and greater measurement precision than 8-bit alternatives. Traditional oscilloscopes use 8-bit ADCs to digitize the data, which is not precise enough for applications that require viewing signals with both a large and small voltage component. The reduced noise and improved resolution of the 12-bit ADC architecture provides finer measurement accuracy and better waveform clarity. This can be seen with the superb 55 dB signal to noise ratio (SNR) and ± 0.5% DC vertical gain accuracy; four times more precise than 8-bit oscilloscopes.
The 256 Mpts/ch deep memory capability permits long acquisitions to capture 30 seconds of data sampled at 10 MS/s, or shorter capture times with the highest resolution at 2 GS/s. This performance is augmented by a huge offset and timebase delay adjustment to allow easy signal and amplifier performance assessment and zooming on vertical and horizontal signal characteristics.
In addition, LeCroy provides a pivoting display that permits viewing signals vertically as well as horizontally to obtain more detail for optimal analysis. This is an advantage particularly when viewing up to 36 channels using the mixed signal option, when operating in the frequency domain using the spectrum analysis package, or when viewing decoded waveforms using the vast selection of tools focused on the embedded and communications markets.
The comprehensive toolset includes a wide range of application packages, advanced triggering to isolate events, a user interface developed for quick and easy navigation, a wide range of probing options, and lightning-fast performance to validate designs, debug errors at board bring up, and characterize an embedded system. The WaveRunner HRO 6 Zi is the ultimate debug machine.
Most Comprehensive Serial Data Analysis
Solving serial data problems requires intimate knowledge of the protocol to get started. With the WaveRunner HRO 6 Zi, the oscilloscope is the expert. Simply connect your probes or cables and the scope can provide the correct level of detail needed to view, debug, and analyze the serial data signals. A combination of decode, trigger, measure/ graph, ProtoSync, and compliance tools address the Embedded, Military and Avionics, and Handset/Mobile/ Cellular market with a combination of decode, trigger, measure/ graph, ProtoSync, and compliance tools.
A New Way to Navigate and View
The WaveRunner HRO 6 Zi features the industry-first pivoting display introduced by LeCroy in February. Simply slide the button on the left side of the display and rotate upwards 90º. The display will automatically change from landscape to portrait mode. The display also pivots upward and downward to optimize the viewing angle.
In addition, the WavePilot control area provides convenient operation of Cursors, Decode, WaveScan™, History, LabNotebook™, and Spectrum by their respective function buttons on the front panel. The SuperKnob is a joystick-like knob in the center of the WavePilot control area used to easily navigate through tables, zoom and position waveforms, and quickly document and annotate your setups.
More Trigger Capability Isolates More Problems More Quickly
A powerful combination of high bandwidth edge and 10 different SMART triggers, four stage cascade triggering, measurement trigger, and Triggerscan™ are all standard, and will isolate the problem quickly to permit rapid focus on the cause. The measurement trigger offers a powerful option to qualify a trigger event based on a qualified measurement with great resolution. A full range of serial triggers (I2C, SPI, UART, RS-232, Audio, I2S, LJ, RJ, TDM, CAN, LIN, FlexRay, MIL-STD-1553, 8b/10b, USB2 and many others) are also available.
Customized Tools
Only LeCroy completely integrates third party programs into the oscilloscope's processing stream by allowing you to create and deploy a new measurement or math algorithm directly into the oscilloscope environment and display the result on the oscilloscope in real-time. Use C/C++, MATLAB®, Excel, Jscript (JAVA), and Visual Basic to create your own customized math functions, measurement parameters, or other control algorithms.
History Mode
History mode lets you scroll back in time to isolate those anomalies, measure them with parameters or cursors, and quickly find the source of the problem. History mode is always buffering waveforms, so no user action is required to save traces other than to invoke the viewer.
TriggerScan
TriggerScan uses high-speed hardware triggering capability with persistence displays to capture only the signals of interest and provide answers up to 100 times faster than other methods. Traditional fast display update modes work best on frequent events occurring on slow edge rates while TriggerScan excels in finding infrequent events on fast edge rates.
In addition to the general purpose WaveShape Analysis tools, application specific solutions are available for Serial Data Compliance, Embedded Design, Digital Design, and Automotive. These options extend the LeCroy standard measurement and analysis capabilities and expand the WaveRunner HRO 6 Zi's utility as needs change.
About LeCroy
LeCroy Corporation is a worldwide leader in serial data test solutions, creating advanced instruments that drive product innovation by quickly measuring, analyzing, and verifying complex electronic signals. The Company offers high-performance oscilloscopes, serial data analyzers, and global communications protocol test solutions used by design engineers in the computer and semiconductor, data storage device, automotive and industrial, and military and aerospace markets. LeCroy's 45-year heritage of technical innovation is the foundation for its recognized leadership in "WaveShape Analysis"- capturing, viewing, and measuring the high-speed signals that drive today's information and communications technologies. LeCroy is headquartered in Chestnut Ridge, New York. Company information is available at

http://www.lecroy.com

.