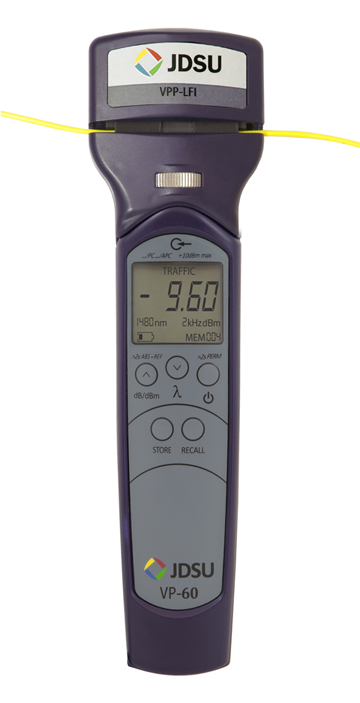 Inadvertently disconnecting an active fiber during installation, test, and troubleshooting is a common cause for dropped service. The new JDSU

FI-60 LFI

helps users easily detect the optical signal without disconnecting fiber or disrupting network traffic. The FI-60 LFI also includes the unique JDSU SafeChek™ system to ensure safe, repeatable engagement with most fiber types without having to change out costly dies.
The FI-60 easily converts to an optical power meter (OPM), doubling its investment value while reducing the number of tools carried.

Here are several benefits that the FI-60 LFI provides,

making it ideal for installation, service, maintenance, or troubleshooting in most fiber applications:
·
Avoid network downtime and damage
with the repeatable SafeChek easy-pull trigger system.
·
Get the job done faster
with a single LFI head that is compatible with multiple cable diameters (250 µm to 3 mm jacketed fibers).
·
Increase reliability and avoid false readings
with an integrated ambient light shield.
·
Buy one tool and save!
The FI-60 LFI easily converts to a fully functioning OPM that stores, recalls, and exports results to a PC via USB –

providing two tools in one.