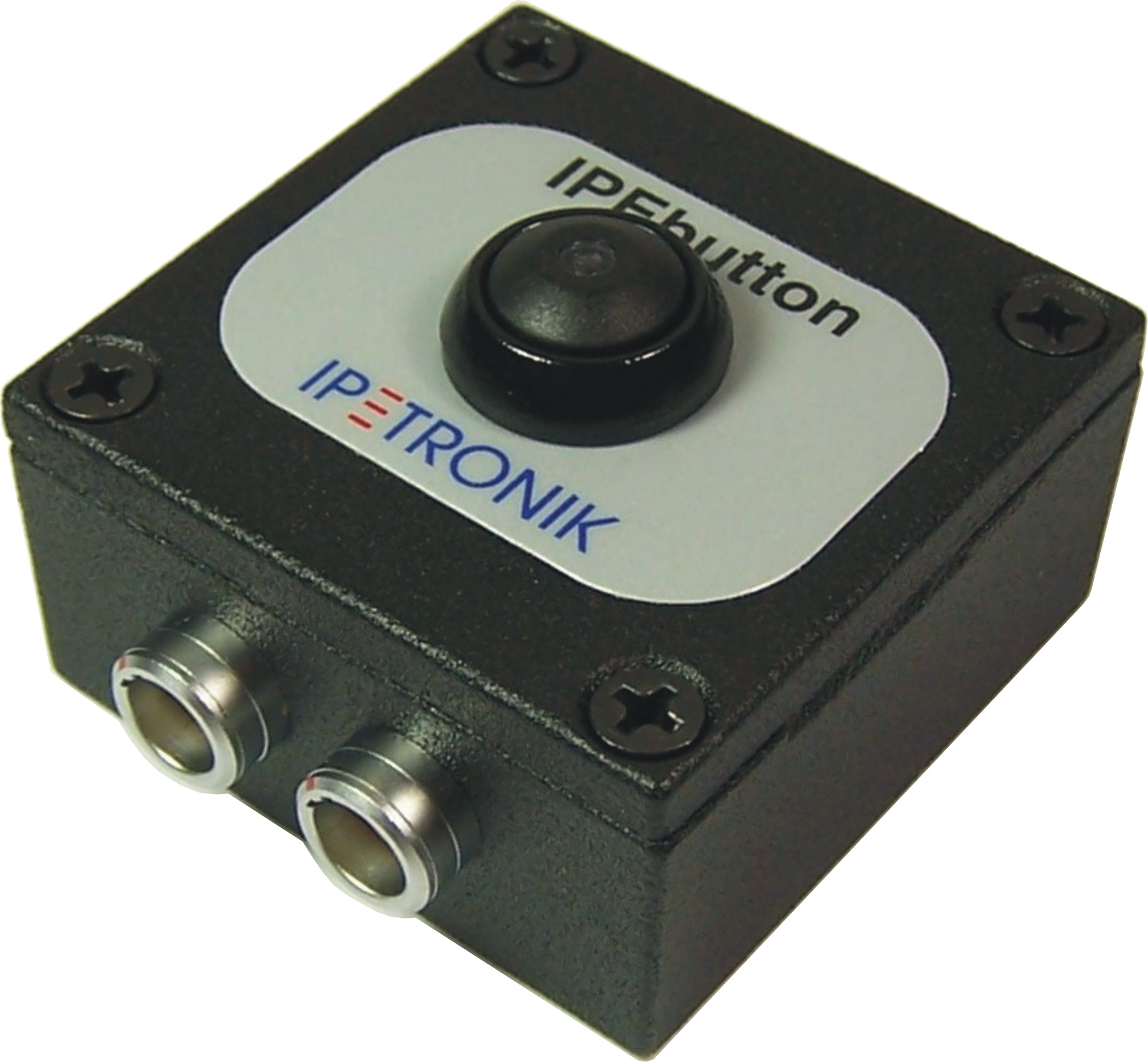 With IPEbutton, IPETRONIK, the world's leading supplier of mobile measurement technology in the automotive industry, offers a compact, smart accessory for IPETRONIK measurement systems. IPEbutton outputs a predefined message to the CANbus once the illuminated push button is pressed. Depending on the type of IPEbutton, it is used to initiate an offset adjust or a shuntcheck for M-SENS and SIM-STG modules. Other applications include send requests to receive signal values from a sensor ("polling"), start a storage group of a data logger configuration and IPEmotion online measurement.

IPEbutton is housed in black powder-coated aluminum enclosure with an IP54 protection rating and dimensions of 50 mm x 50 mm x 25 mm (W x D x H). It requires a voltage supply between 9 VDC and 36 VDC. The trigger button is suitable for an operating temperature range from –40 °C to +85 °C at a relative humidity of 5 to 95 %. Output data is transmitted at up to 1 MBit/s via two CANbus interfaces as defined in ISO 11898-2. Optionally, high quality cables with Lemo connectors are available.
About IPETRONIK
Since its founding in 1989, IPETRONIK GmbH & Co.KG has had a profound impact on the technology that the automotive industry uses to perform mobile measurements. Today, IPETRONIK is one of the world's leading companies in this sector. Since 1999, IPETRONIK has been a subsidiary of INDUS Holding AG with headquarters in Bergisch Gladbach, Germany. This group includes a total of 42 mid-size companies from different segments of the economy. This provides IPETRONIK with a sturdy foundation and with financial backing for strategic projects and for investments in both new and existing locations. For years now, nearly all car manufacturers have been relying on the high dependability, precision, and availability of IPETRONIK's products and services. The company's comprehensive portfolio of measurement modules, data loggers, sensors and software combines modular measurement equipment of the highest accuracy with expertise in analog measurement technology and automotive data busses for commonly used automotive networks – including the relevant communication protocols for control units. By continuously expanding its Consulting/Engineering division, IPETRONIK has increasingly been able to serve as a technology partner with a broad range of services for the automotive industry. These activities focus on vehicle test equipment, including general testing and both on- and off-road test runs, with an emphasis on vehicle air-conditioning and thermal management as well as the development and production of test beds for environmental simulation. At company headquarters in the Southern German city of Baden-Baden, about 100 employees develop innovative solutions that are then produced in Germany. At the location in Duesseldorf, a team of eight specialists develops and supports the IPEmotion software. And in Hamburg, a team of seven designs thermodynamic test beds. To ensure that it fulfills its commitment to provide global sales backed up by local customer care, IPETRONIK operates subsidiaries amongst others in France, Sweden and the US and works together with a growing worldwide network of distributors.